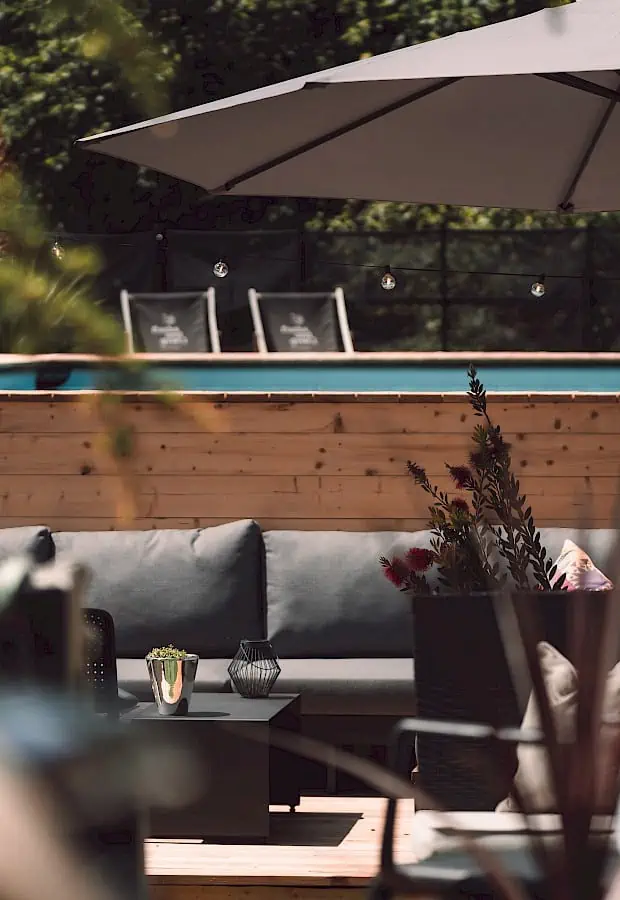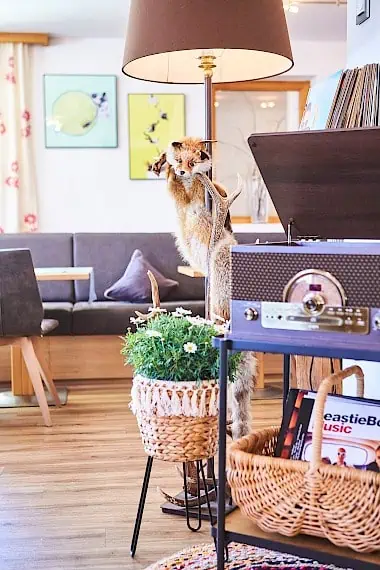 Holidays with the foxes in Saalbach-Hinterglemm
Foxes are generally considered to be shy loners, but not so in Saalbach Hinterglemm in the Salzburg area in Austria. Here the foxes are lovable hosts and friendly creatures who want to offer their guests one thing: the perfect accommodation for their holiday, a temporary home base for CHILLING and RELAXING and - the most important thing - A GOOD TIME!
The easy-going fox is also a clever fox. That's why the holiday homes of "der fuchs und die gang" are exactly where they are: in a brilliant location, a bit off the beaten track and yet central. In winter, stumble out of the holiday apartment into the ski cellar, grab your skis and after you fell over about two or three times you are right in front of the next lift, the next bus stop or in front of the next restaurant. Others call it ski-in / ski-out, we call it GMIATLICH (= comfy)! In summer you just leave your skis off. :P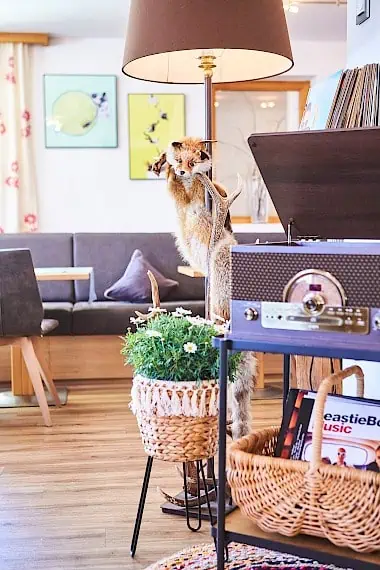 IN CASE WE HAVEN'T MENTIONED IT YET: AT "DER FUCHS UND DIE GANG" YOU WILL FIND THE COOLEST, MOST CASUAL, STYLISH AND HIP ACCOMMODATIONS

IN SAALBACH HINTERGLEMM IN THE SALZBURG AREA. HOLIDAY FLATS

, APARTMENTS, A HOLIDAY GUESTHOUSE

, MANY COLORFUL ROOMS

IN A LARGE HOUSE – IT'S NOT ALWAYS EASY TO CHOOSE. A LITTLE TIP: ASK THE CLEVER FOX OR THE FANCY GRETL – THEY KNOW WHICH ACCOMMODATION FOR YOUR HOLIDAY IN SAALBACH HINTERGLEMM

IS RIGHT FOR YOU!
"der fuchs und die gang" have come up with something really cool: Holiday apartments to die for, accommodation to melt away and a chilled guesthouse that simply has it all. Summer, winter and most of the time in between you will find at "der fuchs und die gang" your home base for your TIME-OUT at the "Home of Lässig".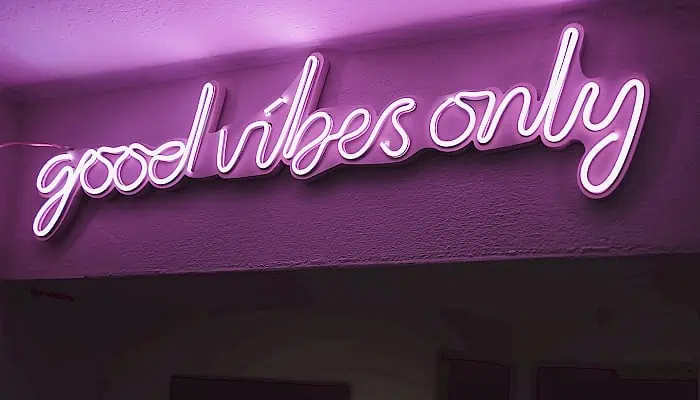 der fuchsbau

"der fuchsbau" in Saalbach Hinterglemm in the Salzburg area is made for families and small packs of foxes who are looking for a holiday apartment or accommodation with a DIY cooking facility. The baker delivers fresh bread rolls every day and in summer the sun terrace is just perfect for a BBQ. It invites you to cook outdoors and watch the sunset. In the holiday apartments in "der fuchsbau" you will feel right at home and you will find everything you are looking for in an accommodation in a holiday home full of spacious apartments. The kitchens in the holiday apartments are modern and well equipped. In all holiday apartments you will find stylish eye-catchers, lovely little details and ultra-comfortable beds in the bedrooms. There is also a small wellness niche with a sauna or infrared cabin in each holiday apartment. SPOILER ALERT - we won't tell you more about the holiday apartments in the foxhole holiday home yet. The fox has hidden further details on this website.

das fuchshaus

"das fuchshaus" is a cozy chalet / holiday home / chiller paradise in Viehhofen, just outside of Saalbach Hinterglemm, somewhere in the middle of the mountains of the Salzburg area between Saalbach Hinterglemm and Zell am See. It doesn't matter whether you call it a chalet, a holiday home or a chillers pardise, it is and remains a terrific holiday home that offers accommodation for up to 20 people. 330 m2 of living space, 3 floors, renovated and peppered with all sorts of goodies and gadgets - simply a holiday living dream come true for large families or groups for whom a holiday apartment is too small and who do not want to share their accommodation with others.

fuchs und gretl

The "fuchs & gretl" is a cozy guesthouse in Saalbach Hinterglemm. Now we replace the word guesthouse with home base and the word Saalbach Hinterglemm with "home of lässig" (= casual), to get closer to what it really is. Young, cheeky, stylish, authentic - that describes the "fuchs & gretl" B&B best. Every room - surprise - has its own character, its own charm and its own style. BUT, you will not find any holiday apartments here. The well-equipped bike garage, the yoga and chill-out platform high in the sky and the Finnish sauna make the "fuchs & gretl" the perfect home base for happy people, beam men and everyone who wants to become one. The super great BREAKFAST with fresh bowls, healthy toppings, regional delicacies and bread from the local bakery turns even the worst morning grouch and breakfast refuser into a BREAKFAST-LOVER. But if someone dares to say GUESTHOUSE to our stylish B&B again...
Congratulations, you've read this far!
But why? Didn't you want to book a holiday flat, an apartment, a room or a house for your next holiday in Saalbach Hinterglemm? Oh, you wanted to check out the pics at the bottom of the page, alright then :)