Happy life in the chalet "das fuchshaus"
Our holiday home chalet "das fuchshaus" in the community of Viehhofen is simply the perfect accommodation for everyone who wants to take their holiday in the Salzburg region in Austria a little more chilled AND needs a looooot of space. Approx. 330 m² of living space PLUS a garden of around 300 m² IS A holiday dream come true for a dream holiday between the top destinations Saalbach Hinterglemm and Zell am See. The chalet or holiday house - depending on which expression you prefer - is a stylish and mega-comfy accommodation for up to 20 people. The luxury fox has blown off some steam in the holiday house or chalet "das fuchshaus" and has left its mark everywhere. First he has put in ultra-comfortable beds in what feels like countless bedrooms, in which there are guaranteed no hidden peas that won't let you sleep at night. Then he built a well-equipped kitchen, in which everything can be found that makes the heart of a holiday master chef beat through the roof, from the apple peeler to the pine wood decoration. His work was far from over, he cheerfully continued and filled the chalet / holiday house with at least 7 other cool things: sauna, home cinema, W-LAN router, hotpot, grill station, whirlpool, ski and bike room, bike wash and a bike service station – also for e-bikes. Last, but not least, he built a gigantic dining room table that made the Knights of the Round Table green with envy.
If we were like any other accommodation, we would formulate the above paragraph like this: Our holiday home "das fuchshaus" in Viehhofen enjoys a fantastic location. Surrounded by the picturesque mountains of Austria and embedded in the idyllic landscape of the region around Saalbach Hinterglemm our holiday home is the perfect starting point for numerous activities in summer and winter. If you are looking for the ideal accommodation near Saalbach-Hinterglemm for large families or groups, you have come to the right place! That sounds somehow ... well, let's leave that again.
BEST LOCATION IN VIEHHOFEN IN THE GLEMMTAL
NOT HIDDEN IN THE DARK FOREST, NOT BEHIND THE MYSTIC TREES AND ALSO NOT IN SAALBACH HINTERGLEMM

, BUT DIRECTLY AT THE ENTRY OF VIEHHOFEN LIES OUR COZY HOLIDAY HOUSE "DAS FUCHSHAUS". UNBELIEVABLE, EVERYTHING IS CLOSE AND YOU CAN CONFIDENTLY LEAVE YOUR CAR IN THE SPACIOUS PARKING SPACE IN FRONT OF THE HOLIDAY HOUSE "DAS FUCHSHAUS". JUST A FEW STEPS SEPARATE YOU FROM THE NEAREST RESTAURANT, THE NEAREST SHOP OR THE NEAREST BUS STOP. BY BUS YOU CAN REACH WITHIN MINUTES TO SAALBACH HINTERGLEMM

OR IN THE OTHER DIRECTION TO ZELL AM SEE - SO YOU ARE IN THE MIDDLE OF TWO OF THE MOST POPULAR HOLIDAY DESTINATIONS AND SKI AREAS IN THE SALZBURG AREA IN AUSTRIA.
It's your choice and daily quest - stay in Viehhofen, go to Saalbach Hinterglemm or would you rather go in the other direction ...?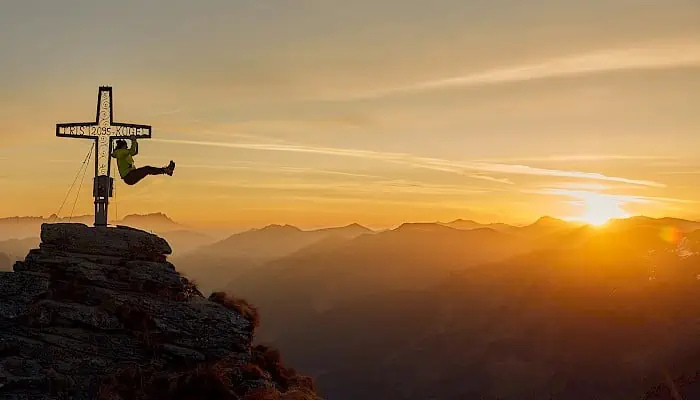 Summer holiday in a chalet in Viehhofen

Summer, sun, happy people everywhere! Hiking, mountain biking, e-biking, escape trailing, BBQ-ing, stand-up paddling, and, and, and, ... If you get bored on your summer holiday in Viehhofen or Saalbach Hinterglemm, you are doing it wrong - sorry - we just can't help you anymore and you should probably stay in your accommodation in the holiday home and build castles in the air or COOL down in the sauna.

Winter holiday in the chalet "das fuchshaus"

In winter we don't to sprinkle glitter on the ground of reality - we have snow and it sparkles at least as much! So, grab your skis, snowboards or whatever you want and hit the slopes! ... or hit the cross-country ski trail, winter hiking trails, snowshoe routes, or, or, or ... the ski bus stops right next to the house and takes you to the Zell am See-Kaprun ski area or to the Home of Lässig, the ski area in Saalbach Hinterglemm in no time.
Wasn't there something else?
Let's think for a moment. We told you that our beautiful chalet "das fuchshaus" is not in Saalbach Hinterglemm, but in a quiet but central location in Viehhofen. The equipment is just awesome and the next lift or the next slope in the next ski area are only a few minutes away. We forgot something, but what? Perhaps an infusion in the sauna will bring enlightenment...