Holiday in Saalbach Hinterglemm with STYLE
The holiday flats / apartments in the holiday home "der fuchsbau" in Saalbach Hinterglemm are not banal accommodations, they are the perfect home bases for all self-cookers and individualists who don't want to sit down to breakfast at 8 a.m. sharp! In the well-equipped kitchens of the holiday apartments even cooking & serving is fun on holiday. From inconspicuous little things like refrigerator, electric stove or can opener to the most essential things in life like coffee, sugar and tea, you will find everything in our holiday flats / apartments that the heart of holiday master chefs will let beat faster.
DID WE MENTION THAT THERE IS A SMALL WELLNESS OASIS IN ALL OF THE HOLIDAY APARTMENTS

IN OUR HOLIDAY GUESTHOUSE IN SAALBACH HINTERGLEMM? NO? AS YOU MAY HAVE GUESSED, EVERY APARTMENT IN OUR HOLIDAY HOME HAS EITHER A SMALL SAUNA OR AN INFRARED CABIN. HAVE WE ALREADY TOLD YOU THAT YOU DON'T HAVE TO TAKE CARE OF YOUR FRESH BREAD YOURSELF EARLY IN THE MORNING? NEITHER? WELL, OUR BAKER DELIVERS FRESH BREAD, CRISPY ROLLS, FLUFFY CROISSANTS AND WHATEVER ELSE YOU FANCY, RIGHT TO THE DOOR OF THE HOLIDAY GUESTHOUSE EVERY DAY. DID YOU KNOW THAT EVERY HOLIDAY APARTMENT HAS ITS OWN BALCONY OR TERRACE AND AN ELECTRIC GRILL? WHAT, YOU DIDN'T? ... IN ANY CASE, EVERY HOLIDAY APARTMENT IN OUR HOUSE HAS ITS OWN BALCONY OR SUN TERRACE, WHERE YOU CAN HAVE A CHILLED BBQ. AND YES, THE VIEW OF THE SUMMITS AND PEAKS IS SIMPLY A DREAM. IF SAALBACH HINTERGLEMM

DIDN'T HAVE SO MUCH TO OFFER, THERE WOULD BE NO REASON WHY TO LEAVE THE APARTMENT IN OUR HOLIDAY GUESTHOUSE TO DISCOVER THE SALZBURG AREA.
Each apartment has its own sauna or infrared cabin, daily bread delivery to the apartment door, free WiFi, TV in every room, chilled garden or terrace with (electric) grill.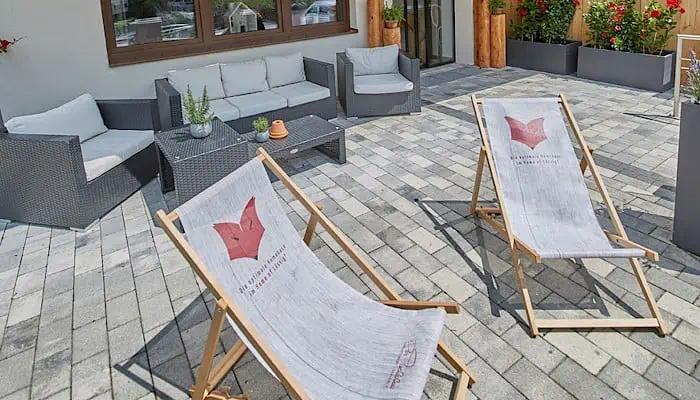 Summer holiday in Saalbach Hinterglemm

Summer in Saalbach Hinterglemm in the Salzburg area in Austria is simply... LÄSSIG (= CASUAL)! And in an accommodation like "der fuchsbau" one, your summer in Saalbach Hinterglemm will be even more relaxed! You leave your holiday apartment, step outside the door of our holiday home and whoops, Saalbach Hinterglemm is at your feet. And the best to remember: As a guest in a holiday apartment in our cozy holiday home, the summer JOKER CARD is already included - YEAH, accommodation with a JOKER CARD!

Winter holiday in the Home of Lässig

What else should we say about winter in Saalbach Hinterglemm? Get your skis out of the basement, walk a few steps from the holiday home to the nearest lift and hit the slopes - preferably early in the morning when nobody is on the slopes yet. Don't feel like skiing again? No problem, there is also winter hiking, snowshoeing, cross-country skiing, tobogganing and, and, and. Your opportunities in winter in Saalbach Hinterglemm are like a never-ending story that you can continue to write every day. And if the cold temeratures makes your bones freeze, you can simply thaw yourself up again in the sauna or infrared cabin in your holiday apartment.
An ode to accommodation that is more than that
Oh shelter, oh shelter, how cool is your decor!? Accommodations for families as well as large and small packs are still available in our house. Sauna, sun terrace, ski cellar, grill and bread delivery, my heart, what more could you want... uh, more. Cozy beds for children and their families, comfy sofas for sundowners and a house full of great things that will make your holiday simply awesome. If you're not a search engine, you can discreetly ignore this paragraph - if you are, you probably know the difference between holiday flats and apartments.